Hey all! The May link party for Eat, Grow, Sew was good for me, was it for you too? I hope you found a project to try. I am still dreaming of those naan chicken burritos! One day I will have the time to make some from scratch - but not this month! I've got a quilt to finish, a huge trip to pack for and summer shirts to sew!
The project that I did try out was from
Christie at Describe Happy
, she had a great idea for starting seeds in leftover TP tubes. Remember....?
Well my garden needed some seeds started...mainly squash as the ones I planted in the ground failed to germinate. It's not a total surprise since here in Portland we've only had 3 maybe 4 nice sunny, wear a t-shirt and shorts kinda days. It's getting a little freaking ridiculous! I need some Vitamin D already!
So I followed Christie's pictures and planted my squash seeds in TP tubes. Now I'm waiting for them to sprout so I can get them in the ground. I may have planted a few too many, but I'm just hedging my bets.
TP Tube Squash
My garden helper
Filling up from my awesome Christmas present, a Rain Barrel!
And since this post is about the garden here's a little time lapse photography from my back yard garden.
These pictures are roughly 1 month apart. Look at that garden grow! Strawberries, lettuce, tomatoes, onion, garlic, radish, spinach, kale, sweet potatoes, peppers & raspberries so far!
Thanks so much to Christie for sharing this great idea with us! It was super easy to do and it uses up some trash, gotta love that! Zero Waste, Zero Waste! Go on over for a visit with
Christie
for more garden eye candy, her flowers are blooming and it is beautiful, oh and there's a super cute new puppy dog! Hope you garden is growing and you get a little ray of sunshine this weekend!
June Eat, Grow, Sew is up and ready - so bring on your projects! I am already wondering what will I make next month!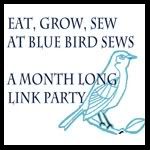 Cheers!
Kelly