Hello Everyone! I know I say this every month, but can you believe that August is already more than half way over! Holy Smokes! It's been a wonderful summer, the garden is growing, I've gotten a bunch of quilting done and we even took a 2 week NY vacation. But summer isn't over yet and the height of the summer veggies has just begun.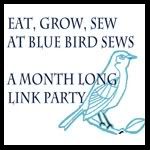 It's time once again to feature your projects being linked up at Eat, Grow, Sew: A Month Long Link Party. Thanks to everyone for linking up with me this month! I love, love, love to see your projects! You'll have been busy this summer it was hard to pick which ones to share! But here they are:
Sage Endeavors shares a
yummy veggie relish
, perfect for the extra veggies coming on right now!
Impera Magna linked up a super cute project to do with the kiddos, place mats from fabric scraps and children's drawings...so creative and such a great present!
Okay, this might be favoritism but The Sunflower Patch posted her Stashtacular projects, that clothes pin keeper from Spontaneous Threads tute turned out so great! Love the fabrics together!
Teje always has beautiful creations, and her
bird blocks
are no exception. The way she's captured the movement of the wings is amazing! If you haven't checked out Nero's Post and Patch hop over over, her amazing pictures of the Greek Island where she lives keeps me coming back ;)
AnneMarie can crochet! She shared a couple patterns with us, and I really like her
Japanese flower
...again I need to learn to crochet (remind me to ask Grandma!) Aren't they adorable!
Do you love beets too? If you said no, it's because you haven't tried them pickled yet...they are so sweet, soft and yummy! Suzy share's her
recipe and method
for canning them over at the sitcom...love them coming out of the caner!
And we can't leave without something sweet....here's a recipe for a
super quick peanut butter cake
that the hubby will love and won't leave you with an entire cake left over! Thanks to Denise at Extreme Personal Measures for sharing this one!
Again thanks to all the ladies for linking up at Eat, Grow, Sew! It's always happening so get on over and share your latest and greatest projects! If you were featured grab a button and show off!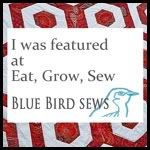 Cheers!
Kelly