And were back! It was two whole months of no Eat, Grow, Sew; how boring! Boring, but still super busy for this girl! So many Christmas presents to sew...go figure I over extended that a little bit! I will be showing all that I sewed for Christmas next week - I *heart sharing*!
But today is all about you! Yes you; Christie, Rhonda and Pam! What the heck it's the new year....ha!
Christie writes at
Describe Happy
and she made her sister happy this Christmas with a beautiful add it up quilt. There were thoughts as to keep this one...but after all it was Christmas - this one would be a hard one to part with!
Rhonda at Quilter in the Gap (who is hosting the wonderful Finish-A-Long
FAL 2012
- check it out) linked up the
ipod case
she made for her daughter. It looks so professional and sturdy...love it!
Pam linked up a few goodies with us; cute quick projects that leave you with a satisfied crafter feeling :)
My favorite is the
applique for kids
...great embroidery around that star!
If you'd like to make it onto the features all you have to do is share your awesome projects with us on the party page! (ha! party page, that makes me laugh!) Grab a button if you were featured ladies!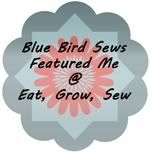 I trust the new year is getting off smashingly for you!
Cheers,
Kelly