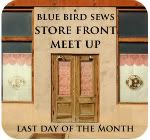 Store-front Meet-up
: a once a month link party with posts centered around the behind the scenes of your internet/home based shop. A place for advice, to share goals, store news, products your thinking about, motivation, encouragement and of course inspiration.
Do you have an Etsy shop? Or maybe a Folksy, a Big Cartel site, a domain of your own or maybe just local craft fairs and specialty shops? Well then let's talk. We could all use ideas, inspiration, advice and networking - right? But what I need most of all is a check-in. A place to list out all my thoughts and ideas about selling my creations with the bonus of getting feed back from people who are doing the exact same thing. Does any of this resonate with you? If so here's what we'll do:
Introduce yourself! Write about you & the places you set up shop.
What's coming next?
What are you working now?
How are the preparations going?
What's selling and what's not working.
Share with the rest of us and comment when you've got a good response.
Of course this is just a starting point, write about what matters to you and your shop!
We should set ground rules, every good game has them!
Be respectful when critical. It's good to give constructive advice.
Be respectful when taking constructive advice. You don't have to agree with everything.
Be respectful of other ideas; copying is not cool.
Come back next week on the last day of the month January 31st and link up with your post & link up your shop. I love a little window shopping and networking! Let me know if you've got any questions or suggestions before next Tuesday.
See you then!
Cheers!
Kelly
** and that amazing photo for the button is being generously being allowed by 'anyjazz65' on Flickr, you can find it and others
here
.