The talent overflows at Eat, Grow, Sew. Winter weather and sewing go hand in hand. Cold weather outside but the sewing machine is pretty warm & inviting. What busy hands you all have! Thank you for sharing your projects with me! I hope you find a little bit of inspiration to keep creating until the winter will melt away and turn to spring along with promises of things to grow.
Enjoy a few features and have a lovely weekend!
Jane over at Projects by Jane
adorable little bunnies, but she also has houses & butterflies and flowers..and and even patterns.
Miranda at the Craft Bot
made a pincushion from a CluckCluckSew tutorial...but it looks a lot like a quilted pincushion I made for Stashtacular! Lovely design, if I do say so! ; )
Sage Endeavors
blog comes up with great re purposing ideas! Guess what these cute gloves and ear warmer used to be.
Grab a feature button ladies! If you want to be featured here just
link up your amazing projects
about Eating, Sewing & Growing from any time in the past or present.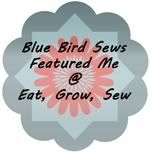 Cheers!
Kelly
p.s. GO NY GIANTS!!!!