Hello Link Party People! It's been a while since I highlighted the projects being linked up at Eat, Grow, Sew. As my days have filled with others things away from the computer I have let this one slide a bit...but no more! Today's a good day for a little project inspiration (and a bit of my own show off from the garden!)
Teje is a regular guest here and I want to share her blog with you again. She's just come back from a stay in her home country of Finland and has an amazing set of pictures and stories to tell.
This cute bag is like one she took with her..
Christie at Describe Happy
has been busy putting in a beautiful garden. Here she shares with us a way to make cheap plant markers that are super cute!
Anjig is linking up for the first time with a recipe for an interesting salad. Made with ingredients she had on hand and using recipe ideas from all over the internet. Sounds exactly like how I cook! Check out her
pomegranate, black bean, feta, mandarin, mint salad.
Audrey at Het Groene Kamertje
is linking up her beautiful felt cuffs. I love these - in such colorful colors and unique needle work.
And lastly I'll share my time lapse photography from the garden this month. These pictures are only 9 days apart but I've been working like crazy out there planting seeds, starts and putting down a new layer of chips for my path. I'm using the square foot method of gardening and so all the beds are marked out in sections to make planting really easy. So far I'm digging it!
Grab a button if you were featured and join the party anytime!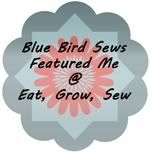 Cheers!
Kelly
PS>>>Also is anyone else having problems with inlinkz? Most every time when I click through a link from a party or go to link up my own I get an error page asking to reload. Pretty frustrating! I've only got so much time in a day to check everything out and when it's spent waiting for a page to load..well anyway rant over! Just wondering if it's only me.