I really enjoy a good Sunday afternoon. Especially when I am away at the Oregon Coast while this little post is publishing ;)! Yes, I finally talked the hubby into getting away for the weekend and I couldn't be more excited!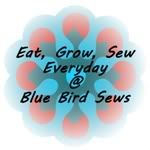 But once we get home it's back to real life. Cooking, Cleaning, Sewing, Gardening, Little Boy Stuff...To keep your inspiration going throughout the week check out these blog posts linked up to Eat, Grow, Sew; the link party that is happening all the time. I haven't been posting much about the party this summer but I hope to change that this fall. So here's to another start of Eat, Grow, Sew!
Annemarie
is super diligent about linking up her latest projects. There are a few to check out but I really like this simple scarf. I think a fabric one might be in my future this winter as I am not handy with the yarn!
Pam at Threading My Way
linked up a bunch of great tutorials - and most are for the upcycle! Check out this fabric basket set from old jeans as well as some cute kids clothes.
See Jane. See Jane Make Bags. See Jane make bags from one print! Super cute bags is all sorts of designs. Check them out and all her patterns at her blog;
Projects by Jane
.
Thanks to everyone who linked up a project while I was off tending to other things - like my little boy and works-a-bunch hubby! This summer has gone by so quickly but I welcome the change in seasons and the new start it brings! So come on by any time and link up your inspiring projects!
Cheers,
Kelly