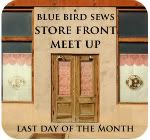 Did I get your attention with that title? I hope so! I love a good secret. But when it comes to selling on line there really are no secrets - all the info you need to know is out there waiting to be read, gleaned and discovered. But still having a successful shop seems so elusive. So to break through that barrier here are the secrets I've learned this month.
Last month
I wrote about the books I've been reading and the stewing I was doing about selling handmade online. Well that stewing lead to some action with results. Let me tell you what I did and what is working for me so far. I like lists so let's do it that way!
Retake photos. When you go onto Etsy's front page what do you notice about the photos? White, sharp & style. I tried to emulate that in my photos - but I've still got work to do. Photo checklist? Okay!

First photo, a grabber - white back ground for sure
Another white background shot the close up
Another white background shot - convey scale
Full front - for quilts not possible with white background so move to fence
Full back - on the fence
If you feel you don't need all 5 spots then add a custom listing button, I did!

Re-write listings -

Use Key Words! So important to write listings to sellers & search engines. A great resource for finding words that work is the Google Keyword Tool. Use it often and see what hits.
Copy/paste function makes the nitty gritty a bit easier - and your shop more cohesive.
Call to action, don't be afraid to tell your buyers to put it in the basket!

Get Branded - I am once again bartering with a friend for marketing collateral. She's gonna be taking Blue Bird Sews (and canvas, and crayons) to the next level. Now you might not have a super awesome branding friend but Etsy has your back on that tip too...you can buy a branding packing with avatar and header for a reasonable price.
my feeble attempt at a banner!
Another thing to think about is holiday sales! Come on people, October is around the corner let's be real it's coming and it's coming fast. Start now to get your shop and your mind set ready. I stumbled across an amazing Etsy seller, Alissa Jacobs - she does super cute clutches and other sewn items. Here's a link to her
holiday checklist
for sellers - I really like the idea of taking a photo of your packaging.
So that's what Septembers check list looked like for me. And I know it's working because my page views are up from a month ago. No sales yet, but I am more optimistic than I was 2 months ago! Well see where October takes me!
Now is the part where you get free media space and a leg up on your Google searches! Did you know every link to your shop on a
relevant
website ups your Google ranking? Take advantage and link to your Etsy or where ever else you sell handmade crafts and services. This link up will be for 14 days, so everyone can join in - tell your friends - tweet, Facebook or email about it!
Cheers!
Kelly