Today is a big, big day here at Blue Bird Sews. The talented and gracious AnneMarie from GenX Quilters is featuring me for her weekly spotlight Follower Friday where she showcases the work of a fellow quilter from my generation, do you remember grunge, the Cosby show, light brights, keds or neon? Well then this is for you! Skip on over to the post and peel back another layer of the onion that is me.
But such an occasion deserves something extra, something special & I've got just the thing, well two things really. Here they are: double Concrete Cabin quilts. Cut, pieced, sashed, quilted and bound. Finished.
Just waiting for a picnic
Side by Side
The backing is pieced using two extra blocks. This side really shows off the
geometric quilting on the purple quilt, I love how it makes so many squares.
Purple Concrete Cabin
Fabric: Legacy Floriana
Batting: Poly/Cotton blend 80%/20%
Dimensions: 47"x61"
Started: March 2011
Finished: April 27, 2011
Quilting style: Continuous Straight Line in Boxes
Sewn & Quilted by me on Husqvarna Viking 980 Prisma
Red Concrete Cabin
Fabrics: Various Quilters Cottons from JoAnn Fabrics
Batting: Poly/Cotton blend 80%/20%
Dimensions: 47"x61"
Started: March 2011
Finished: April 27, 2011
Quilting style: 1/4" stitch around inside of each square
Sewn & Quilted by me on a Husqvarna Viking 980 Prisma
I like how the 80/20 batting gives is a little puff
The white sashing pops these blocks out and catches their details.
And I am in love with this easy continuous straight line quilting
with a walking foot. There are lots of turns, but so worth it in the end.
The tutorials for this
block
,
sashing
& easy peasy
quilting
are up right now free for your use, soon I'll be posting tutes for the more advanced quilting technique of the purple quilt and a binding tutorial to finish it up. I didn't plan on making a quilt-along but I kinda did : ) How's that for spontaneous art!
Thanks for stopping by! I will be linking up for Sew and Tell Friday at
Amylouwho
and a few other great link parties, find them all and more in the side bar and share what you've been up too.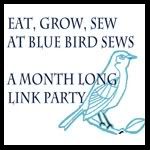 And you are invited to come by on Sunday when we start
Eat, Grow, Sew
- a link party that is always happening, hosted by me.
Have a wonderful weekend & happy sewing!
Cheers,
Kelly