Do you have a rhubarb plant too? Mine came with the house and although I do like a good rhubarb and strawberry pie (my Grandma makes the best!) that's where my list of rhubarb uses ran out; right at number one. Until I came upon a suggesting in one of my gardening books for rhubarb water.
It sounds a little silly, rhubarb in water...but it has the same refreshing quality as slices of lemon or mint and ginger or some other fancy combination. The strawberries are also going crazy in the garden so I threw a couple in for good measure.
Rhubarb leaves are huge in my garden, so much rain
this year. But you wouldn't want to eat them, the leaves
are toxic.
Cut into slices
Also I've got to tell you about Stashtacular, because I want you to be a part of it! I've teamed up with Jenna at
Sew Happy Geek
& Stephanie of
Spontaneous Threads
to bring you 4 weeks of stash busting fun! We'll be having 12 tutorials for simple fun projects with supplies you probably have laying around right now! And have you ever wondered if you can go a month without buying fabric? Odd question, huh.....we're a bunch of fabric junkies! But take the pledge of no new fabric for a whole month and swap with over 20 ladies from around the country and the world! And there's tons of prizes for swaping and for making the Stashtacular tutorials.
Find out all about it on the Stashtacular page by clicking below and sign up over at
Stashtacular Flickr
page!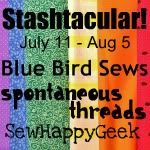 Also I'll be linking up this week with all the parties listed on my side bar. Go over and give them some love and link up too!