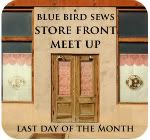 Hello! And thanks for coming by the Meet Up! I really want this is be a space for sharing the true nuts and bolts of having and shop and selling handmade goods. I find the making of my 'products' to be the easy part. Setting up an online shop or bringing goods to market is where the hard work comes in, right. But the effort we put in is so worth it and I'm sure we've all learned a few tricks along the way. So let this be a place to share our tips, the goals we have, the creations we are selling and everything in between. So welcome to you; entrepreneur! Come on in and let's talk!
You will find the link-ups below but fist I'll start with a little introduction about my sales. You can find me on
Etsy anytime
but I've had the most success selling to friends, family, small local shops & holiday bazaars. Living in Portland, Oregon has benefits as there is a large crafty community established here. Selling handmade goods is a hip thing and there are plenty of opportunities to sell that way.
What sells well depends on where I'm at and targeting that market. My baby things have done well at the baby boutique (duh!) but not so well for the holiday sales. The bazaar table does well for crayon rolls and recycled crayons as well as the note cards I've made. I bring my quilts to the bazaar because you never can tell who will be there and I don't want to miss the exposure for the big ticket items but I make sure to have my smaller items stocked up.
My plan for next month:
The motivation I have for this shop comes from two places: first of all my desire to create & secondly is my mountain of student loan debt. I would create no matter what; it's what I've always done. But now that I am a college-educated-stay-at-home-mom I have this insatiable urge to make a bit of money to help pay for my 4 years of state college -- and at the very least pay for the quilting habit I have!
Next month let's talk about motivation. Where does your come from?
To Link up with the party and share the love:
Please link up your individual post for Store Front Meet Up with a link back here so that we can easily find you and others can easily find us!
Link up your shop site as well, we want to oh & ah over your things!
This is a great opportunity for networking like adding an Etsy stores and products to your favorites or your circle which updates into your activity feed for everyone to see
'Like' shops or items on face book and Pinterest; let's get a buzz going!
I can't wait to get hopping around and see what everyone is up too! I'll be creating treasury lists throughout the week from my favorites so keep a look out for that on Etsy. I will leave this link party open until Friday so spread the love and spread the word about the meet up. Let's get some hype going on around the shops! Till next month!
Cheers!
Kelly