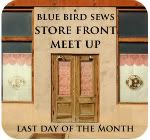 Hello there! I am super happy to post this Store Front Meet Up; for the first time in a few months I'm a little embarrassed to say! In February I wrote "
Prioritizing is key to bringing in cash from creativity. What is working for Blue Bird Sews shop is being there in person to sell my crayons, cards and art."
I should have amended that phrase by saying "What is working
right now
...." Because earlier this year I had a few Blue Bird Sews sales at friends shops and being there was working. Then I started a mini marketing campaign through Facebook and landed new custom quilt orders! That paired with an Etsy sale & another custom quilt order through Etsy has got me re-prioritizing once again. Gotta be fluid to get where you want to be.
On the horizon: During the summer months the holiday bazaars are just a distant goal. For now I have fewer in-person sales prospects but that doesn't leave me out altogether. Portland has many neighborhood Farmer's Markets which might allow a little local lady like myself to set up a table for an afternoon. Gotta make things happen, right.
Right now:
Selling on Etsy is interesting...the shop could be idle for weeks, months then all of a sudden things happen and it leaves you wanting more. With the 2 transactions back to back and a booty load of made goods I'm stocking up the shop with all my trinkets for sale. Next will be starting a new shop solely for my photo note cards. Look at me, two shops ;0) !
Link up your shop or your blog post - or both- about what's happening at your place this month. Linky will be open until Sunday Jun 3. For the rules of the link up and to see what happened check out the previous months post:
February
January
Cheers!
Kelly