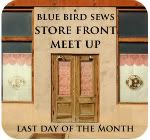 Hello there! I've been stewing about Etsy, about selling and making but mostly about the selling part. I love making, making is so easy and fun and I know all about that. I can sew, design, quilt and keep focused enough to finish a pile of wonderful creations. But then what. What to do with the boxes of lovely items I have made for some one, some where....but how do I let them know I've made them something?
Hey there! I made something totally awesome, snugly, colorful just for you! Please pick it out and pay at the register!
Well short of yelling that out my door step....which don't think I haven't thought of! What is a seller to do? Educate yourself. Read all about and then get on the computer and start clicking away.
I jumped in head first, eyes closed and with gusto when I set up this blog and etsy shop. I have a fire under me to create and sell....I am just not so savvy when it comes to the whole internet marketing thing. Where do I Google ad when I should twitter all about it? Or what's up with a Facebook fan page and how is that different than my personal Facebook or my blog. What is the Esty shop supposed to look like? What do my listing need to contain to entice a buyer? See what I mean...stewing.
But this week I made a few steps toward Etsy Shop perfection. I went to the library and checked out a stack of books. Here's what I got and a brief description:
Mom, Inc: The essential guide to running a successful busniess close to home
- I haven't gotten to far into this but the whole business in the basement thing is hard to juggle when the laundry is down there and my family right up the stairs.
Crush It! When now is the time to cash in on your passion
- super great motivational stuff with practical internet based marketing/networking info. I think it's convinced me to make a video about Blue Bird Sews
How to sell your crafts online
- this book has step by step instruction on what your Etsy shop should look like, sound like, and be connected too. I'm only a few chapters in and have already started taking this advice.
How to make money using Etsy
- have only cracked this one but looks like it has more in depth Etsy info and technical, what buttons to push info.
So that's what I've been doing - thinking, tweaking, thinking some more...all that in between sewing, crafting and being an awesome mom and wife.
Oh and now I'm also twittering...something I never thought I'd do...but I did. Find me @bluebirdsews
Any tips or tricks you have about selling on line or a great read about it? Share it in the comments along with your Etsy Shop or any other online store front you've got.
I'm gonna get back to stewing!
Cheers,
Kelly