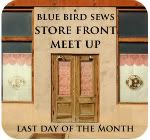 February is nothing like January for me. The start of the year has me pumped up raring to go!!!!!(that's how many exclamation points it needs) But funny what a few weeks can do to that motivation and changing priorities.
Do you go through these fits and starts with your shop how about with your creative juices for making products? I can't be the only one, right! Ultimately I'm only one person, and can only do so much. Prioritizing is key to bringing in cash from creativity. What is working for Blue Bird Sews shop is being there in person to sell my crayons, cards and art.
Earlier this month I had a little table at an art open house and did alright! In the meantime Baby J and I are taking care of the nephews and getting paid. So that also rearranges priorities and gives me some cash towards my goal.
On the Horizon:
Coming up in a couple weeks is another Sip n' Shop at Katie O'Brien's Pub (which I need a cute little St. Pat's craft, hints please!). This time I'll have a couple more items to show off including some really cute button bobby pins & photo cards shown in the pictures above!
Now here's the thing; I could list these products in my Etsy shop but I am just reluctant to put energy into it at the moment. From hopping around to the blogs that linked up last month I learned a little thing or two about on-line shop stewardship.
Market yourself 25% of the time you are working
Cater your shop towards what sells in the Etsy community
I haven't done either of these things this month! Next month we'll see what happens and where the Blue Bird Sews label will go.
Where is your shop headed? How do you prioritize your shop with your life?
Link up your shop or your blog post - or both- about what's happening at your place this month. For the rules of the link up and to see what happened last month check out
January's Meet Up
.
Good Luck with your shop this month! Till then!
Cheers,
Kelly